Dinka elder expresses reservations on peace revitalization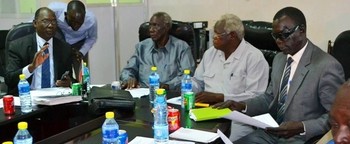 A leading member of the Jieng (Dinka) Council of Elders said that he had reservations on the revitalization process of the 2015 peace accord, stressing it will not bring about peace in the country.
"I don't believe that the revitalization process will stop the war. The cessation of hostilities agreement is also wrong," Joshua Dau, one of the elders and the co-chair of the Jieng Council said in an interview with Radio Tamazuj on Wednesday.
Dau said the national dialogue process launched by President Salva Kiir in May last year is the only initiative that can save the country from disintegration and usher in a new era of peace, stability and prosperity.
"Those who feel that they have grievances can sit down with the government through mediators so that they can find an amicable solution. But it is not good to bring in people who have interest to share power without elections," he said.
Dau, who is also a member of the Council of States, said the national dialogue is a forum through which all opposition groups can agree on the governance of the country.
The South Sudanese politician pointed out that the peace agreement signed in 2015 was imposed on the warring parties, and that difficulties in its implementation were not surprising.
The elderly politician said President Salva Kiir will not be forced to step down by force, insisting it would set a bad precedent for the country. He added that Kiir did not assume his presidency through the barrel of the gun, but through peaceful means.
He urged the people of South Sudan to embrace peace through dialogue. "I don't want the revitalization forum because it will cause another war. This is my personal position as Joshua," he said.