Dinka council of elders supports peace deal revitalization, rejects renegotiation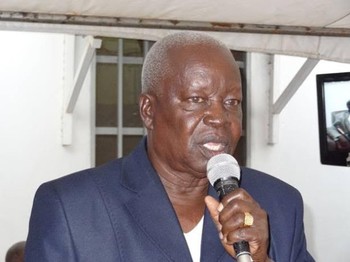 File photo: Ambrose Riiny Thiik
The Jieng (Dinka) Council of Elders, a group of influential Dinka politicians who advise President Kiir on political matters, says it supports efforts to revitalize the 2015 peace accord instead of renegotiation.
Ambrose Riiny Thiik, the former chief justice and now chairman of the Dinka Council of Elders, told Radio Tamazuj on Friday that the 2015 peace deal needs evaluation.
"What we are saying as the council is that the peace agreement should be evaluated by the parties and if there are areas where there are concerns, they need to identify them and see how they can move forward with the implementation of the peace agreement, instead of new talks," he said.
Ambrose revealed that key stakeholders and guarantors of the 2015 peace agreement will meet in Addis Ababa to participate in the evaluation of the peace agreement as proposed by the East African regional bloc IGAD.
"Our understanding is that in Addis Ababa, on the 13 August onwards, the warring parties comprising government, the SPLM-IO, SPLM-FDs, other political parties, the mediators and the international community, will be meeting to evaluate the whole agreement to see what has been achieved, what remains to be done and the plans in place to move forward. This is what we know," he explained.
The former chief justice said the parties though the revitalization forum will deliberate on issues that could be addressed and come out with the way forward on political, economic, social, cultural and governance matters.
This process, he said, is expected to be inclusive. He urged all communities to observe true social and cultural rights and responsibilities. Ambrose called for support to political leaders and parliamentary representatives.