Dinka and Nuer women meet for peace in Bor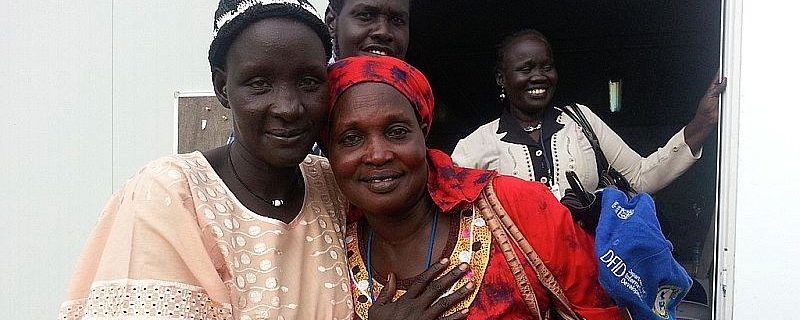 Women's groups from Nuer and Dinka communities have met in Bor for a dialogue on reconciliation and healing, for the first time since South Sudan's civil war erupted in December 2013.
The women from the greater Bor area of western Jonglei met Thursday with women of the Nuer community who are currently living under UN protection in Bor.
About 4,000 people are still living at the Bor 'Protection of Civilians' site. Most are part of a Nuer minority that lived in the state capital Bor prior to the violence that destroyed much of the town in December to January.
Meanwhile, many of the Dinka residents of the Bor area who fled across the Nile into Lakes State owing to violence during the same period still remain there.
Southwestern Jonglei is predominantly Dinka, while Nuer inhabit most of the north of the state, and the Murle, Anyuak and other tribes inhabit the west. The state is South Sudan's largest, and saw some of the country's worst violence.
According to James Apai Ochalla, chairman of the peace commission in Jonglei State, yesterday's meeting aimed at changing prevailing stereotypes held by Nuer and Dinka communities, reducing tensions and making plans for engaging the two communities in joint activities.
Dinka and Nuer pastors spearheaded the initiative, with UNDP supporting and UNMISS hosting the meeting on their compound.
Speaking to UN Radio Miraya, James Apay explained, "The team came from Juba – a team of pastors, faith-based – and we met, first of all we started with the paramount chief of greater Bor, and again we also met the youth of greater Bor, we met the women of greater Bor."
He said the pastors determined that "these women they can be brought together with the women that are staying in UNMISS camp – the Nuer women, and those greater Bor women thought they can talk and share their ideas about how this peace can come among ourselves."
"So we talked, and this is the solution that we are together here, and we are talking about this peace," Apay told Radio Miraya.
For her part, UNMISS Jonglei State Coordinator Hazel De Wet said the meeting was the first of its kind since the conflict broke out seven months ago.
"I'm really happy with what happened here today in the UNMISS compound in Bor town: having representatives from the Dinka women's community and representatives from the Nuer community, coming together and talking to each other about the need to find a path towards reconciliation, forgiveness, and in order to rebuild their lives," she said.
She called the dialogue event an "amazing breakthrough… at the people's level, at the community level, and amongst communities."
"Even though there may be discussions at a much senior political level, it is equally important that at a community level people are coming together, finding methods and means on how to heal what has happened to them, but also find an opportunity to dialogue and discuss and find common ground."
De Wet added, "We as women we know that we are 51 percent of this community and therefore we need to be at all the levels of the different tables in order to discuss… the processes towards peace."
"Starting with the women today in Bor I think it's an amazing achievement and I think it will go a far way in finding long-lasting solutions."
Photos: Women's event in Bor, 31 July 2014 (UNMISS/Mihad Abdallah)
Related:
S. Sudan lawyers call for public memorials for victims of atrocities (29 July)