Dialogue committee in Aweil West calls for tolerance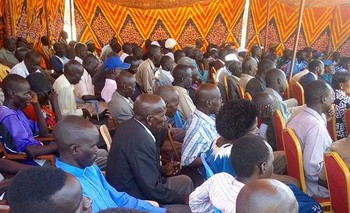 Aweil community leaders have called for tolerance and the use of the national dialogue initiative as a platform through which grievances are raised.
Edward Lual Deng Kon, one of the Aweil community leaders, told Radio Tamazuj on Tuesday said the message they have delivered at a public rally in Nyamellel on Monday was a message of peace, tolerance and unity.
"Our message has been consistent to all the people and rallies we have held. We have told them to embrace dialogue, take ownership and use the dialogue as the platform through which anybody with grievances channel them for address. We need our people to remain a beacon of tolerance, peaceful coexistence and live in harmony with other community members and neighbors, "said Lual.
The community leader urged for reconciliation and unity of purpose, saying differences need to be addressed through dialogue instead of disastrous and divisive means. Lual also said many people have been asking for the release of Paul Malong.
"There have been people coming forward to talk about Paul Malong. We listen to them as this is one way to hear from the people the kind of issues they want to raise. But our message has been clear and consistent. The dialogue is not about individuals, not about personalities. It is about issues. We have been telling them to talk about the system of governance," he explained.
The dialogue committee met with traditional leaders, church leaders, women, youth, business people, people with disabilities and village health workers.