Dialogue committee calls for inclusive dialogue in Aweil East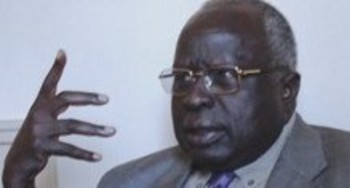 File photo: Aldo Ajou
The national dialogue team that visited Northern Bahr al Ghazal region has reached Aweil East, home state to the former chief of general staff, Paul Malong Awan.
General Paul Malong Awan is being confined to his home in Juba for security reasons. He was sacked in May by President Kiir after resignations by senior military officials.
Aldo Ajou Deng Akuey, one of the prominent elders in Northern Bahr al Ghazal and member of the national dialogue subcommittee, told Radio Tamazuj on Wednesday the team has reached Wanyjok, the administrative headquarters of the legislature.
Ajou further said the objective of the dialogue subcommittee in the area is to carry out wider consultations at the grassroots level to solicit their views on how to end the ongoing war.
"The objective of the dialogue committee is to reach out to everybody so that wider consultations are carried and to give anyone an opportunity to speak out about how the current situation can be addressed," he said.
However, the prominent politician declined to answer a question whether or not the suncommittee would hold discussions in Aweil East state about Malong's house arrest in Juba.
In October, Intellectuals, members of disabled union and other groups in Aweil had staged protests against the South Sudanese government's detention of former army chief General Paul Malong Awan.