Detained Aweil MPs released in Juba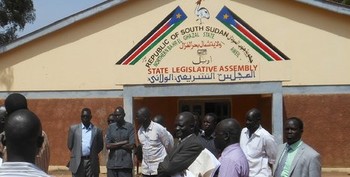 Deng Ayom Ayom, a former parliamentary speaker in Aweil State who was detained for alleged links with Paul Malong, said they have been released in Juba.
Top Aweil officials including the state assembly's speaker were arrested and detained for alleged links with the newly declared rebel leader and former army chief Paul Malong.
The officials released in Juba are secretary general of Aweil state government, three parliamentarians, former town mayor and two youths.
Speaking to Radio Tamazuj today, Ayom confirmed that they were released after a meeting with President Salva Kiir on Monday.
"The president told us that you are free. There was no any condition for our release because we were found innocent," he said.
Deng, who was last week removed from his position, said a letter will be written in Juba over his removal in Aweil.
"But if the authorities in Aweil state refuses, I will go to Aweil to look into the matter," he said.
The former speaker said his removal from the position was illegal. "I will go to Aweil and return to the state parliament," he said.