Deploy additional forces to Abyei: UN chief urges Security Council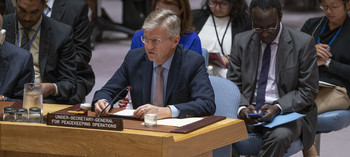 Under-Secretary-General for Peacekeeping OperationsJean-Pierre Lacroix (UN Photo/Cia Pak)
The UN Under-Secretary-General for Peacekeeping Operations Jean-Pierre Lacroix has called for the deployment of additional police units in Abyei to enhance the UN force's ability to deal with current realities.
Lacroix who was addressing the United Nations Security Council on Thursday, said the UN Interim Security Force for Abyei (UNISFA) should be enforced to maintain law and order amidst deteriorating security situation in the oil-rich region.
He said the adding that the additional forces are still within the current troop ceiling for Abyei, a disputed area between Sudan and South Sudan.
The UN peacekeeping chief made further recommendations aimed at ensuring UNISFA supports the governments of Sudan and South Sudan in their efforts to reach an agreement over the future of Abyei.
The recommendations also include the establishment of two sector headquarters and team sites with the Safe Demilitarised Border Zone to secure the make the border region.
UNISFA, established by the Security Council in 2011, is tasked with monitoring the border, facilitating humanitarian aid delivery, and is also authorized to use force to protect civilians and humanitarian workers in the region.