Departing UNMISS Chief urges parties to fully implement peace deal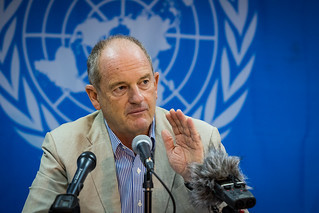 Outgoing UNMISS chief David Shearer
David Shearer, the outgoing Special Representative of the Secretary-General and Head of the United Nations Mission in South Sudan, has called on South Sudanese leaders to unite and fully implement the revitalized peace agreement.
Speaking on Tuesday ahead of his departure Shearer said: "I urge the people and leaders of South Sudan to remain united and energized to push the peace process forward to fully implement the revitalized agreement and hold elections so communities across the country can finally enjoy true peace and prosperity."
He noted that although progress had been made in the implementation of the peace deal, the parties to the deal must pick up the pace on constitution-making, transitional justice, economic reforms, and the unification of armed forces from all sides.
"I have been extremely privileged to support South Sudan as it makes the difficult transition from war to recovery and peace. As my four years of service comes to an end, I am proud of the progress that has been made, including the ceasefire, peace deal, formation of a transitional government, and the installation of local leaders in the states," he said.
Shearer added, "I have so much admiration for the South Sudanese who I have enjoyed working alongside immensely. They are tough, resilient, and remarkably patient. I am inspired by their seemingly endless hope as they fight against huge odds to achieve the much brighter future they deserve. I will miss this young country and wish it well from the bottom of my heart."
The UNMISS boss also said he has been encouraged by the return of internally displaced persons who were seeking shelter at the UN Protection of Civilians sites either to their homes or are living in newly transitioned displacement camps under government responsibility.
He also paid tribute to the UN agencies who are helping reduce violence and promote reconciliation and the humanitarian workers for their provision of life-saving assistance to millions of people in need.
In January, United Nations Secretary-General António Guterres announced the appointment of Nicholas Haysom of South Africa as his Special Representative for South Sudan and Head of the United Nations Mission in South Sudan (UNMISS).
It is not yet clear when he will assume office.