Demonstration in Juba PoCs in support of peace process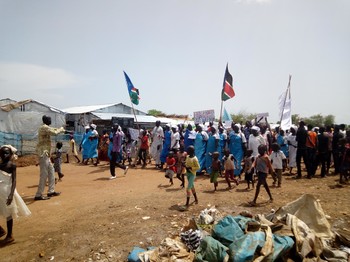 File photo: Anti-war demonstration inside Juba PoCs on June 12, 2017. (Radio Tamazuj)
Residents living in displaced camps under UN protection in Juba on Sunday demonstrated peacefully calling on the East African leaders to bring about peace in South Sudan.
The IGAD summit, to be attended by heads of state and government from IGAD countries today evening, would discuss the dire security and humanitarian situation facing South Sudan and the obstacles to the implementation of the signed peace deal.
The protesters warned that the exclusion of Riek Machar from the peace process will prolong the ongoing war in the world's youngest nation. They accused some East African leaders of planning to block Machar from returning to South Sudan.
The internally displaced persons urged the UN mission in South Sudan to present their letter during the extraordinary summit of the Inter-Governmental Authority on Development (IGAD) in Addis Ababa on Monday.
The displaced persons also urged President Salva Kiir to accept peace without any condition.
The camp's people are mainly from the Nuer tribe who left their homes when fighting broke out in 2013.