Demonstration against US arms embargo in Northern Liech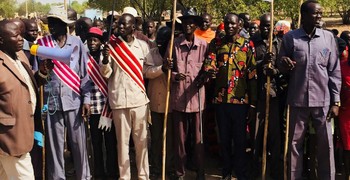 Authorities and citizens in Northern Liech State on Thursday held a huge rally protesting the US arms embargo on South Sudan saying the punitive measure is a form of neo-colonialism.
Lam Tungwar, Northern Liech State information minister told Radio Tamazuj that the US should instead support peace efforts to end the war.
"As the government representing the people, we stand with the people because punitive measures like sanctions are not the best way to settle conflict. Instead such measures undermine peaceful efforts," he said.
He added, "So we call on US government and allies to work with the transitional government of national unity to find an amicable solution to the current situation."
Tungwar further said South Sudanese overwhelmingly voted for self-determination, and that cannot be compromised.
"We know the role which United States of America has played as a midwife to South Sudan liberation and independence. It is important that the Trump administration should just build bridges rather than destroying them," said Lam.
The demonstration follows a similar protest in South Sudan's capital Juba on Tuesday. A group gathered outside the U.S. Embassy and the UN base to express their disapproval of the US arms embargo.