Death toll rises to 35 in Maban fight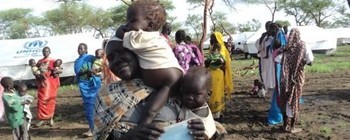 Photo: A woman and child at a medical transit site in Jamam Camp near the MSF-Holland clinic, June 2012. (Radio Tamazuj)
The estimate of the number of the people who died during the recent violence between supporters and opponents of the SPLM-N leader Malik Agar at refugee camps in Maban has increased, bringing the total number of dead to 35, according to several refugees.
Last week, deadly clashes erupted among members of the Blue Nile refugees as a result of the recent decision by the Nuba Mountains Liberation Council suspending the SPLM-N secretary general Yassir Arman and withdrawing the negotiation team.
Speaking to Radio Tamazuj on Tuesday, a Sudanese refugee at Gendrasa camp said the number of the people who died during the recent violence has increased from 20 to 35. He further said there are many people who sustained injuries, while other refugees fled into the bush.
Meanwhile, a leader at Doro camp said at least 25 people were killed in the western part of their camp after the clashes erupted at Gendrasa camp last week. He further said seven wounded people were taken to a clinic run by MSF.
For his part, Abdel-hafiz Al Bushra Hassan, the spokesman of the interim SPLM secretariat in Blue Nile, accused Malik Agar and his nephew Ahmad Al-Omda of inciting the recent violence between the Ingessina tribe and other ethnic groups who have sought refuge in Maban County.
He also accused Agar of arresting some SPLM-N leaders and chiefs in Maban.
Radio Tamazuj couldn't reach Agar's group to comment on the matter.