Death toll in Wau violence rises to 31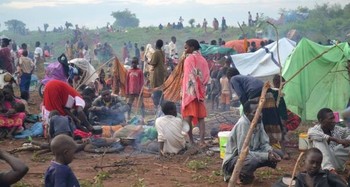 Photo: Displaced civilians at UN PoC in Wau town on 28 June, 2016/Francis Irigu
The death toll from the latest upsurge in fighting in Wau town, northwestern South Sudan has risen to 31, according to a senior state official.
The UN peacekeeping mission in South Sudan reported that at least 16 civilians were killed after fighting spread to Wau town. Eyewitnesses reported those government-aligned militias were targeting local residents based on their ethnicity in residential areas.
The Governor of Wau State, Andrea Mayar Acho, told Radio Tamazuj on Thursday that the government had received a report on 31 dead bodies and 11 wounded people after the recent events in Wau town.
"The last figure was 29, but later two dead bodies were found, so now the total number is 31. There were 9 injured after the Wau attack and later two people were brought from Alur and Mapel who were also attacked by cattle keepers. Unfortunately, one of them died," said Mayar.
He pointed out that that the state government is preparing to release its final report on the recent fighting in Wau. The state official noted that the number of the people killed during in Wau could be higher.
The governor claimed that the attack on civilians came as a reaction to the killing of top SPLA commanders in an ambush laid by gunmen believed to be loyal to Riek Machar's opposition group in Wau.