Dams authority resettles Blue Nile villagers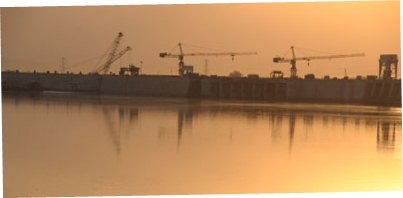 The Sudanese government announced that it finished resettling about 20,000 families in Blue Nile state after the heightening of the Roseires dam. The affected population was moved to 'model villages' by the national dams authority.
A senior official said that the resettlement process is complete for all citizens affected by the project. "We have resettled 20,000 families in 12 modern cities equipped with all the necessary services," said Dr. Ahmed al Karori, social affairs commissioner of the Dams Implementation Unit (DIU).
The villagers were moved after the water level of the Roseires dam reservoir rose about 10 meters, causing a vast expansion of the dam lake. The dam was originally built in 1966 and held only 3 million meters cubed of water. The new design is for a capacity of 7.4 meters cubed, according to the Arab Fund for Economic and Social Development, which provided a loan to cover about 40% of the total project cost.
Resettled villagers now live in new cities featuring tarmac roads, bridges, schools, hospitals, mosques, clubs and over 120.000 feddans of agricultural lands, according to Karori, as quoted by the website of the national dams authority. The resettlement operations cost $240 million, Karori added.
The resettled population will be put to work in new irrigated agriculture schemes made possible by the dam and apparently either owned by or at least backed by the Dams Implementation Unit. "It is to be noted that the affected citizens formed cooperative societies to manage the agricultural projects and DIU provided farmers with all machineries and other inputs," the dams authority noted in a statement published on its website Tuesday.
The Dams Implementation Unit, which has the status of a full ministry and maintains its own security forces, is headed by Usamah Abdullah, brother-in-law of the Sudanese president. The unit handles the megaprojects at Merowe, Roseires, Siteit, Dal and Kajbar as well as a portfolio of other work.
Remarks attributed to Eng. Mohamed al Hadari, director-general of the dams unit, suggest that the organization has also taken a role in areas in Blue Nile captured from the Sudan People's Liberation Army-North, setting up electricity generation stations in Bout, Gissan, Gai and Kurmuk and carrying out a number of other infrastructure and service projects.
Radio Tamazuj tried to contact Dr. Ahmed al Karori for further comment, but he was unreachable.
Related: 17 villages drowned as Roseires dam raised (12 October 2012)