Customs delays delivery of textbooks to Warrap and NBeG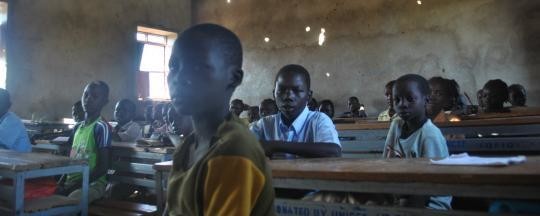 41 trucks carrying consignments of textbooks and other reading materials for primary schools throughout South Sudan have been released by customs authorities in Nimule after being held there following a tax exemption dispute.
Now at Nesitu waiting for clearance, the trucks are destined for Northern Bahr el-Ghazal and Warrap states.
Director of Curriculum Development in the Ministry of General Education and Instruction, Omot Okony Olak, said that the tax exemption letter given by the Ministry of Finance applied to 213 trucks, although only 30 % of which are thought to have been brought into the country so far. The remaining containers are in Kampala waiting for exemption before setting off for Nimule.
"The exemption letter that was given has expired and now we are applying for the new one to be issued by the Ministry of Finance before the trucks in Kampala set off for South Sudan," added Omot.
The Warrap State Minister of Education, Andrea Agual, appealed to the government to totally exempt from taxes scholastic materials as the distribution of these textbooks in Warrap State was supposed to begin a week ago.
These books are part of a shipment 9.2 million text books donated by the United Kingdom's Department for International Development and intend to provide a full range of books for every primary school child in the country.
Launched last year at a ceremony which included the British Ambassador and Advisor to the President, Aggrey Tisa, distribution of the books in Central Equatoria State was completed last month.
Currently underway in Northern Bahr el-Ghazal, distribution will begin shortly in Warrap State followed by Unity State in April. The whole process is expected to conclude in May.