Cross-border youth Peace Football Tournament kicks-off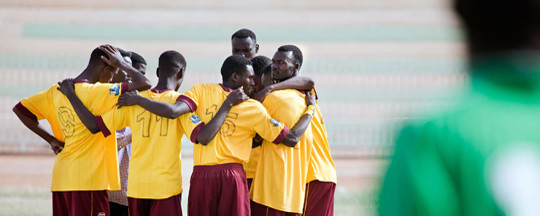 Youths from bordering states of both Sudan and South Sudan kicked-off the Peace Football Tournament in Aweil town in Northern Bahr el Ghazal State on Tuesday.
The tournament brings youths together from three neighboring states of Sudan and South Sudan, including Northern Bahr el Ghazal, South Kordofan and East Darfur.
Addressing the public at Aweil Freedom Square on Tuesday evening, Hon. Mareng Chuor Deng state Minister of Sports, Youths and Culture said, "We aim for youth from our neighboring states to have a peaceful football tournament to promote peace among youths within three states of two Countries.
"We here in Northern Bahr el Ghazal state have selected the best players from different counties in which two teams from Aweil North, four from Aweil Town, two from Aweil East, one from East Darfur and one from South Kordofan," he explained.
Minister Mareng added that the tournament is neither a political exercise, nor a competition for any prizes, but to make peace among youths along the bordering tribes.
"In an interview with Radio Tamazuj, Rizeigat Representative Mohammed Ali Qureshi said: "This tournament is for the culture of peace which is to be exchanged among the youths in order to have coexistence, peace, and harmony among them. We hope it will be successful and continue as relationship between countries."
The tournament was funded by the United States government and organized by the Northern Bahr el Ghazal state Ministry of Sports, Youths and Culture.
File photo: Albert Gonzalez Farran/UNAMID