Crop market opens in Baggari, 'situation stable'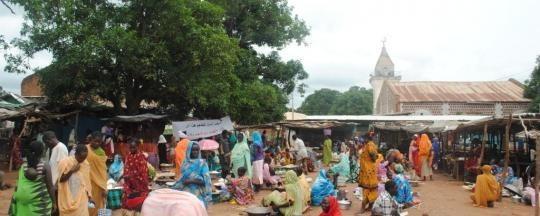 Wau County commissioner Elia Kamilo Dimo has announced the opening of a local market in Baggari area, Western Bahr el Ghazal.
The main products to be sold at the market will be the locally produced crops as well as fruit. Dimo said in a statement to Radio Tamazuj that the security situation is stable in his County following the transfer its headquarters to Baggari. He noted that move was welcomed by the local farmers.
Demo acknowledged the seriousness of the local farmers as this year a good number of them have already begun cultivation activities. Local County authorities processed about 70 acres as a government farm, which encouraged the citizens to cultivate as much as they can, according to commissioner Dimo.
"It's the first time that this area will have a market since its establishment. As a new County it's also an opportunity for raise revenue from the market in order to enable and accomplish other programmes.
"In my assessment this year, I visited all areas of the County and most of the farmers were really ready for the cultivation season. At the County headquarters in Baggari, we have prepared a farm of about 70 acres for County staff, including police officers. The main activity of the people of this County is crop cultivation," Dimo stated.
File photo by Radio Tamazuj: Raja market, South Sudan
Related: Wau trials: 4 freed, 7 convicted of inciting violence (28 March 2013)