COVID-19: Government says financial constraints limiting contact tracing in Torit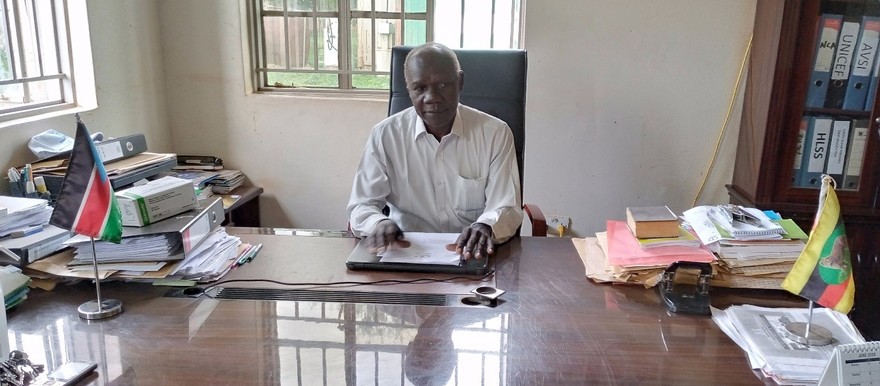 Dr Elijo Omoro Tahir, the chairperson of Torit taskforce on COVID-19 speaking to journalist in Torit on July 26, 2020. (Radio Tamazuj)
Authorities in Eastern Equatoria State say they are finding it difficult to trace people who made contact with suspects of the new coronavirus due to lack of funds.
Contact tracing, according to the WHO, is the process of identifying, assessing, and managing people who have been exposed to a disease to prevent onward transmission. That means tracking down anyone a sick person was in close contact with and isolating them and monitoring their symptoms to avoid them getting other people sick.
Speaking to reporters in Torit on Friday, Dr. Elijo Omoro Tahir, chairperson of the state High-Level Taskforce for COVID-19 revealed that Torit town has now become a hotspot for the new pandemic.
"The major challenge we have is contact tracing. It has been difficult in the sense that we would like to recruit more people to do the contact tracing, but these people will require some kind of risk allowances as a kind of motivation so that they can do their work. We haven't had any kind of funding," said Omoro.
He added, "Of course you cannot allow someone to go and do risky work when there is no guarantee. We don't even have enough protective equipment. As of June 23, we had 19 confirmed cases of COVID-19, but the number increased to 23 as of June 25. This is alarming and I think something needs to be done".
The health official expressed concern that most community members still behaving normally as if there is no pandemic.
"Let them take precautionary measures that have repeatedly been played over the media. We have tried through our partners to find facial masks, but even when we distribute them, they are not being used particularly in crowded places like markets," he said.
Omoro appealed to the security agents to implement the directives of the task force to reduce the spread of the novel coronavirus.
Coronavirus is spread when an infected person coughs or sneezes and the droplets land in the mouths and noses of another person.
The most effective ways to protect yourself and others against COVID-19 are to frequently clean your hands, cover your cough with the bend of elbow or tissue, and maintain a distance of at least 1 meter from people who are coughing or sneezing.
Health experts have raised concerns that the poor healthcare system in South Sudan could cause havoc.