Court cross-examines mother of 3 murdered children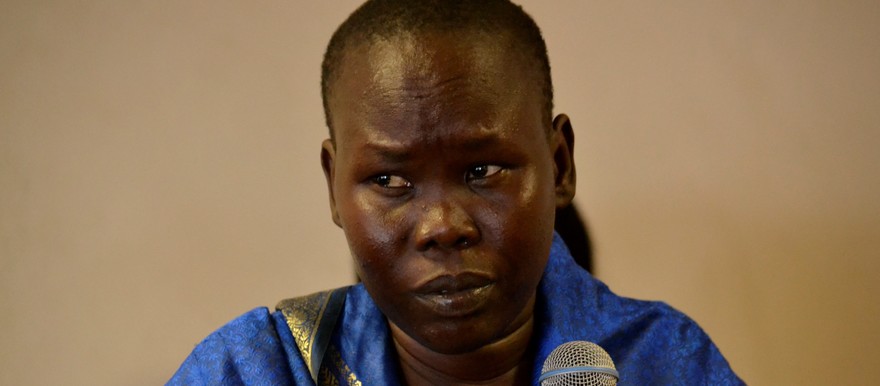 Gailda Kwenda, the mother of the slain children testifies as the principal witness to the murder in front of a high court judge in Juba on October 13, 2020. (Radio Tamazuj)
The high court in Juba yesterday cross-examined the mother of the 3 children who were brutally slain at their home in the Rock City suburb of Juba in August.
The appearance of Gailda Kwenda Gideon in court came a day after the police arrested her on Monday at Juba International Airport while she was trying to travel to Cairo, Egypt.
The criminal trial of the gruesome murder case commenced on Friday last week when the prime suspect in the case, Babu Emmanuel Lokiri, was arraigned in court and a statement in which he admitted to the crime was read back to him.
Babu Emmanuel however on Monday recanted the statement he had earlier made in front of a judge and denied killing the three siblings.
Gailda Kwenda Gideon was summoned by the court to testify as the principal witness to the horrific murders. She was the one who discovered the bodies of her deceased children.
In her statements before the high court, Gailda said that disturbances and psychological trauma prompted her to think of travelling to Cairo. She apologized to the court and the people of South Sudan for her move.
"I am Gailda Kwenda Gideon, 40 years old, a graduate of the University of Juba, College of Natural Resources in 2005. I got married to Edward Andrew, the father of the slain children in 2009," Gailda Gideon said. "My psychological state after the murder of my children prompted me to travel and I apologize for that."
Juma Rihan, the public rights counsel at the Ministry of Justice, told reporters after the court session that the court heard the statements of the first witness in the case, the mother of the children, and that she was interrogated during cross-examination.