Costello's army general, group of soldiers defect to government in Aweil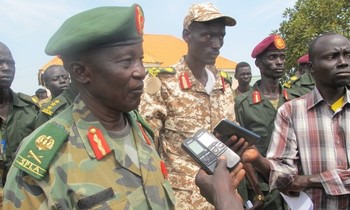 An army general along with a group of more than 70 soldiers from the opposition group of South Sudan Patriotic Army/Movement (SSPA/SSPM) led by former presidential adviser, Costello Garang Ring defected to join the government.
The latest defection in Northern Bahr al Ghazal comes as the youngest African nation struggles to bring about lasting peace.
Speaking to Radio Tamazuj from Wunyiik area on Thursday, Brigadier General Deng Mareng Deng, spokesman for South Sudan Patriotic Movement and commander of the defectors, said their decision to abandon rebellion was in response to President Kiir's call for peace and national dialogue.
The group surrendered to the SPLA Division 3 under the command of General Santino Deng Wol.
The defected Brigadier General accused his former boss Costello Garang of using them to participate in Arab wars such as Yemen's conflict.
General Santino Deng Wol, commander of the SPLA Division 3, confirmed the arrival of the defectors led by Deng Mareng. He said that a committee will be formed to integrate the fighters into the SPLA army.