Constitutional amendment committee begins working meeting in Juba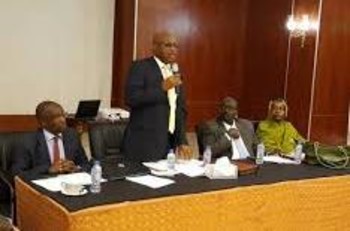 The National Constitutional Amendment Committee (NCAC) held its first working meeting at JMEC offices in the capital Juba on Monday.
The meeting was attended by representatives of all the parties in the reconstituted committee, including members of all the parties, women, youth and civil society.
JMEC commends that representatives of the SPLM-IO and SSOA travelled from outside the country to attend the meeting.
The NCAC is scheduled to meet continuously in Juba for the next three weeks. Its work is critical in laying the legal framework for the pre-transitional and transitional reforms.
NCAC is mandated to incorporate the revitalized agreement into the transitional constitution, review security, political parties and election laws among other things.
Yesterday's meeting followed the inaugural meeting in Khartoum on 22 October 2018, during which the modalities of NCAC's work were discussed and a tentative schedule agreed on for the incorporation of the revitalized peace agreement into the transitional constitution.
NCAC Chairman Gichara Kibara said: "The Committee's meeting went well. This is indeed a positive and encouraging start to the work of the reconstituted Committee as we embark on undertaking our very critical role. We look forward to fruitful deliberations and we are optimistic that we will be able to achieve this important task."
The members of the committee are as follows: representatives of IGAD: two (2) - Chair and Deputy Chair; TGoNU: five; SPLM/A-IO: two; SSOA: one; FDs: one; Other Political Parties (OPP): one; Civil Society: one; Women: one; and Youth: one.