Communist Party says Kiir's national dialogue 'would fail'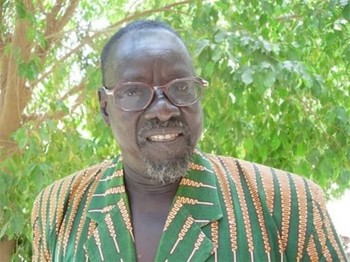 Photo: Secretary General of South Sudan's Community Party Joseph Modesto. (Credit: Craig Combs).
The Secretary General of South Sudan's Communist Party has downplayed the national dialogue inaugurated by President Salva Kiir on Monday, saying it would definitely fail since it is not inclusive.
Joseph Modesto told Radio Tamazuj on Monday that the dialogue will not bring peace to South Sudan as long as the government is conducting the dialogue with itself.
During the official launch of the National Dialogue in Juba on Monday, President Kiir said: "Everybody is welcome to participate in the national dialogue except Riek Machar, because if he comes he will cause another war in Juba".
"This dialogue cannot be successful if it is conducted within South Sudan. It should have been done outside the country, because those in the opposition cannot come as they fear for their safety," said Modesto.
He also noted that the political prisoners who are still in detention should have been released immediately for successful dialogue.
The opposition party leader urged for the inclusion of all parties to the conflict for meaningful dialogue and resolution of the conflict.