Community leaders, military agree to promote peaceful co-existence in Yei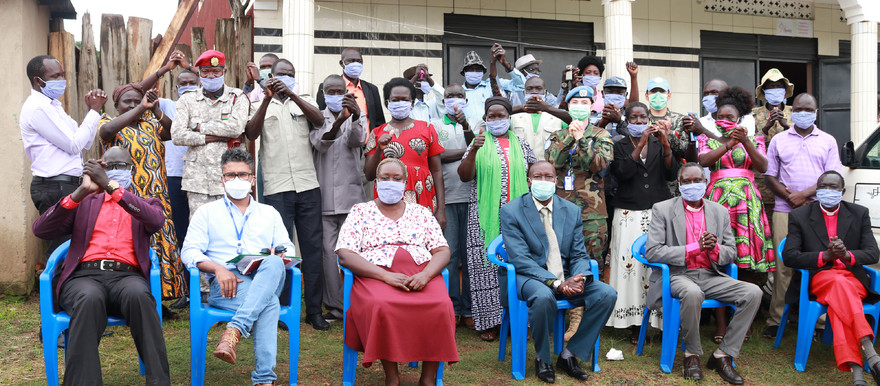 Participants at a civil-military peace dialogue in Yei pose for a group photo on July 28, 2020 (Radio Tamazuj)
Community leaders and military in Yei River County of Central Equatoria state have agreed to promote reconciliation and peaceful co-existence among the local communities in the area.
The agreement was reached during a three-day civil-military peace dialogue which was organized by YAMORA with support from Kondrad Adenauer Stiftung (KAS) Uganda and South Sudan.
Over 30 civilians, military representatives, religious leaders, elders, local chiefs, and the other organized forces attended the dialogue.
Speaking to Radio Tamazuj on Tuesday, Justoson Victor, the Executive Director of YAMORA said the three-day dialogue was aimed at promoting reconciliation and peaceful co-existence.
"We want to bring the attention of the military to the challenges affecting civil-military relations, their expectations from the military protecting them and the military needs to explain to civilians why the relations between them and civilians are not smooth and in the end agree to co-exist together in the same community," he said.
Lt. Col. Michael Machar, the military-civil relations officer in Yei welcomed the dialogue, assuring civilians of the military's commitment to promoting peaceful co-existence among communities.
"We have started the process of building trust between the military and the civil population because we believe the civilians and the military live together and respect each other. Let civilians cooperate and share ideas and the military should protect the community so that together we promote peace and development in this nation," he explained.
Anthony Diko, a community elder in Yei River County, said they freely discussed challenges like poor civil-military relations and agreed on building peaceful co-existence.
"The dialogue brought together the civilians and the military and both agreed to respect each other. The chiefs and the military also agreed to work together. The soldiers and the civilians are all living in the areas controlled by the chiefs and there is a need to work together in support of peace and development," he stressed.