Commodity prices rise in Bor town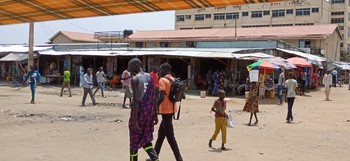 Marol market in Bor town (Radio Tamazuj)
Citizens in the town of Bor in South Sudan's Jonglei State are complaining over the rise in prices of commodities.
A survey carried out by Radio Tamazuj in Bor town on Thursday showed a sack of sugar increased from 10,000 SSP to 11,500 SSP while a 20-litre jerrycan of cooking oil surged from 6,000 SSP to 7,800 SSP.
Ajulu Ngel, a resident of Bor town, said she could hardly afford to buy food for her family. "Cooking oil, flour and greens are all expensive. There is an increase since last week," she explained.
Manyok Simon, another resident, said the lockdown imposed over coronavirus threats forced traders to increase prices in Bor markets.
Chol Ayuen, a businessman, attributed the rise in prices to scarcity of hard currency.
Although South Sudan has not registered any case of coronavirus, it is stepping up efforts to prevent the new deadly pandemic.
The Chamber of Commerce has warned traders against taking advantage of the coronavirus pandemic to increase prices of goods.