Commodities shortage hits Fangak County, Jonglei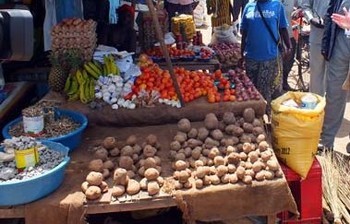 The market in Fangak County of Jonglei State has run short of essential goods for weeks due to insecurity and floods, residents and business people have said.
The floods-hit Fangak area gets its basic goods supplies from the capital Juba and the neighboring Upper Nile State. But, for a month now fears over insecurity forced business people to suspend operations along the Nile, leading to commodities shortages.
Speaking to Radio Tamazuj Tuesday, several businessmen in Fangak, said they are unable to supply goods to the county due to insecurity, multiple taxes, and floods.
"No goods come from Khartoum nowadays. We receive our supplies from Juba. But due to this dollar crisis, we are unable to receive supplies. For goods coming from Khartoum, they cannot come because of floods, "Jacob Riek, a trader in Fangak said.
Another businessman Liya Beny said: "With the few goods in our stock, prices have shot up. The increase helps us compensate for the cost we incurred. In my grocery shop, a sack of sorghum now increased from 5,000 to 15,000 SSP and that of a 50 kg sack of sugar to 27,000."
A resident in the Fangak area, Sarah Nyepini, urged the government to intervene, saying the cost of living is increasing amidst floods in the area.
For his part, Samuel Kangach, the Secretary-General for the Fangak Chamber of Commerce, blamed the shortages in commodities and the price hike on insecurity along the River Nile.
"Our traders fear to supply goods because of insecurity at some points along the Nile from Juba. And also those who risk supplying goods face problems of floods and dollar," he said.
He urged the state government to provide protection along the Nile.
Elijah Thongbor, the Secretary-General for Boats' Union in Jonglei, admitted that they suspended operations in September due to insecurity and extortions by criminals along the Nile between Bor and Fangak areas.
The state police spokesperson Major Majak Daniel Tuor, said they are unaware of the security concerns along the Nile and urged the Nile users to seek police escort before they embark on a journey.