Co-founder of Emmanuel Christian College in Yei urges for peace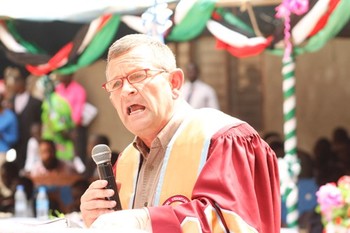 The co-founder of Emmanuel Christian College in South Sudan's Yei State, George William, has urged South Sudanese citizens to embrace peace, reconciliation and forgiveness through Jesus Christ to pave way for development in the country.
William, a South African national and chief executive officer of the Open Doors Organization, was addressing the 12th graduation ceremony of more than 100 South Sudanese in Yei town last Friday.
"It leaves me with deep misunderstanding as to why South Sudanese cannot embrace peace, freedom, wellbeing, stability and prosperity. I see a picture for South Sudan to have good roads, big buildings, light, development and growth," he said.
William added that South Sudanese worked hard for freedom and independence but it is high time for South Sudanese citizens and leaders re-think and re-direct their efforts for peace, reconciliation and sincere repentance to create space for betterment of livelihoods.
Speaking at the same venue, Bishop Elias Taban of the Evangelical Presbyterian Church urged South Sudanese to resolve their conflicts through dialogue to pave way for investments and development in South Sudan.
Bishop Taban said South Sudanese said the church is committed to bringing lasting peace to Yei and South Sudan and pave way for development of South Sudan.