Clooney arrested amongst activists at Sudanese Embassy in Washington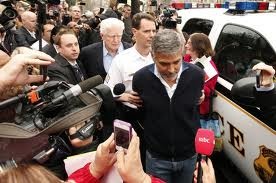 Dozens of activists including members of congress held a protest on Friday in front of the Sudanese embassy in Washington.
They demanded the end of atrocities and mass killings perpetrated by the Sudanese government in the states of South Kordofan, Blue Nile and Darfur.
Protestors also demanded the government in Khartoum stop blocking humanitarian aid to the border areas where hundreds of thousands of people are threatened with starvation over the next few weeks.
The protest was attended by actor George Clooney who was arrested along with his father and several members of congress, the founded of United to End Genocide Tom Andrews, Enough project founder John Prendergast according to a statement by police.
They were reportedly released this afternoon after posting $ 100 bail, they is unlikely to face court charges.