PARIANG/YIDA -
22 Dec 2013
Clashes near Yida refugee camp prompt evacuation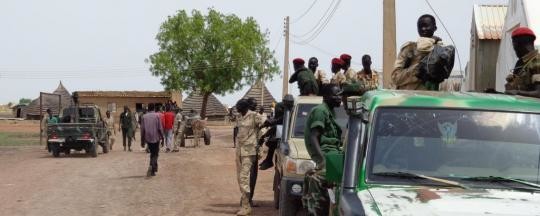 Fighting in northern Unity State in the vicinity of Yida refugee camp has prompted the evacuation of aid workers amid fears that violence could affect the humanitarian situation of refugees from Sudan's border state of South Kordofan.
NGO Samaritan's Purse, which established Yida Camp more than two years ago, stated Saturday "due to growing insecurity and open conflict, Samaritan's Purse is no longer able to perform essential services to those living in South Sudan." It has ordered the evacuation of all of its expatriate employees from the country.
Just over 70,000 refugees are registered at Yida, according to data on the UNHCR website current to 15 December, and another 6,591 at Adjoung Thok, which is located in the same county, Pariang.
Fighting to the southwest of Yida in the county capital of Pariang between Kiir loyalists and defectors broke out around 5 p.m. on Friday, resulting in at least 10 killed and leaving the town in the hands of the government. It is not certain at this point who is controlling Jau, another army area and border post which lies to the north of Yida.
According to a security source in Pariang County, defectors from the Jau garrison remain at large in the county. Having left their post recently, they were attacked by local Dinka youth while moving southward in the Panyang area, which is less than 10 km from Yida.
"People deserting Jau are grouping somewhere threatening the peace in Yida," he said. He described the defectors as currently scattered in small groups of four to ten fighters. They may be heading southward to link up with the mutinous elements of the 4th Division, now controlling much of the state.
No security forces at Yida
Some or all of the remaining expatriate aid workers in Yida Camp have evacuated already. NGOs may try to continue operations with local personnel, but a number of the South Sudanese staff have apparently already left as well.
The UN Humanitarian Air Service (UNHAS) canceled a flight scheduled for Sunday because there were no SPLA on the ground to assure the safety of the inbound flight, but other chartered aircraft are reported to have left the airstrip today carrying aid workers under orders to evacuate.
Also a contingent of national police left from Yida on Thursday or Friday and were brought to Pariang town as clashes broke out there. They have not yet returned to the camp.
Yida camp's markets were closed early on Friday, according to refugee sources, and there was reportedly a "great panic" in the camp. Further information on the present situation inside the camp was not immediately available.
The same security source declined to comment on SPLA military operations, saying he could not predict whether the army would undertake a military operation against the defectors in the area.
File photo: SPLA soldiers in northwestern Unity State, July 2013 (Radio Tamazuj)
To contact Radio Tamazuj with comments, news tips or information, write to radiotamazuj@gmail.com.