Clashes erupt between rival forces near Pagak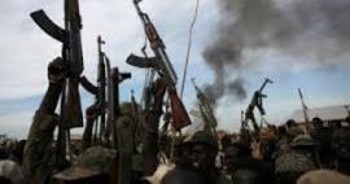 File photo: Rebel fighters hold up their rifles as they walk in front of a bushfire in a rebel-controlled territory in Upper Nile state, South Sudan Feb. 13, 2014.
Clashes erupted on Saturday at Kubri Jekow near the South Sudanese town of Pagak near the border with Ethiopia when government troops launched an offensive against opposition fighters, the rebels said.
Rebel spokesman William Gatjiath Deng told Radio Tamazuj on Sunday that the government forces had attacked their defensive positions in the area, but they were repulsed.
Gatjiath admitted that at least two soldiers were killed from their side. He claimed that they killed a dozen of government soldiers during the clashes.
SPLA spokesman Lul Ruai Koang could not immediately be reached for comment.