Civilians flee as rival forces clash in Yei River State: Official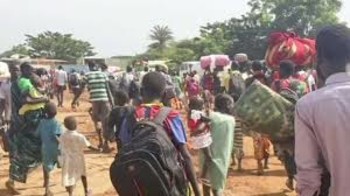 The commissioner of Mukaya County in Yei River State claims more than 400 civilians have been displaced after clashes between opposition groups clashes in the area on Tuesday.
Commissioner John Beneya told Radio Tamazuj that many civilians are still hiding in the bushes after the clashes. He claimed that the fighting was between SPLM-IO forces loyal to Riek Machar and forces loyal to former governor of Western Equatoria State Joseph Bangasi Bakasoro.
Beneya said that the displaced need emergency relief assistance. "So far I have registered more than 400 displaced civilians mostly children, pregnant mothers and the elderly. I condemn this act in the strong possible terms. As a government, we are committed to peace not war again," he said.
For his part, SPLM-IO spokesman in Yei River State Godwil Wai confirmed the clashes on Thursday. He said a group of unknown armed men has been attacking their base in Mukaya since last week.
"There was a group of criminals from Yei who came to Mukaya on 8th. They found people in the market, stole from them and kidnapped 27 civilians. So, we followed them and we rescued 10 people. They were targeting relatives of our forces. Again on 11th they attacked us in our base but we repulsed them. Yesterday the same group attacked us in our headquarters. The conflict continued till evening," he said.
"They have been stealing and burning homes. We don't know who they are exactly. We don't have any evidence that they are Bakosoro forces. These are criminals maybe from the government side. And they are about 30 people," he added.
Daniel Zingifuaboro, the spokesperson for South Sudan National Movement for Change led by Joseph Bakosoro said that they fully observe the cessation of hostilities agreement for the sake of peace. He acknowledged the presence of their forces in Yei but denied any involvement in clashes.