Civil society, women representatives finally allowed to take part in peace talks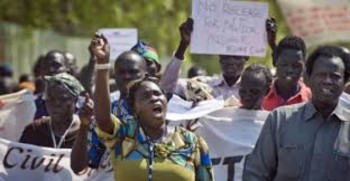 Representatives of civil society organizations, faith-based groups and business community have been finally allowed to take part in the ongoing peace talks in Khartoum.
The South Sudanese civil society activists complained on Saturday that they were refused permission to take part in the ongoing talks on security arrangements.
Edmund Yakani, Executive Director of the Community Empowerment for Progress Organization (CEPO) told Radio Tamazuj this afternoon that they have resolved the issue with the Sudan mediation team after mounting pressure.
"We will be consulted tomorrow (Monday) as delegates of civil society, eminent personalities, women, business community and faith-based group on the outstanding issues," he said.
"Today they are done with the warring parties," he added.
The civil society activist pointed out that some progress was made on security arrangements and implementation of ceasefire.