Civil society required to resolve Misseriya disputes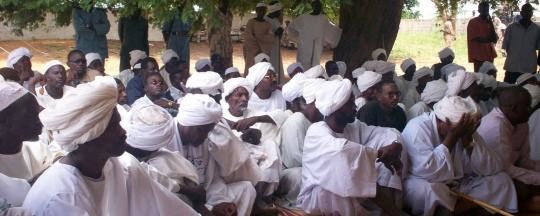 Misseriya tribal leadership in South Kordofan have called for any reconciliation process attempting to resolve recent intra-tribal clashes to be channeled through civil society bodies.
They called for the formation of a reconciliation committee composed of members of tribes neighbouring the Misseriya as well as members of the el-Hajair clan who were not involved in recent clashes.
The Awlad Surur clan's chief, Karif Rahama, confirmed that the situation is currently calm and highlighted the willingness of other groups as well as the state governor, Ahmed Haroun, to support their reconciliation with the Awlad Heiban clan.
However the role of oil companies and authorities in apparently failing to honor pledges involving livestock grazing –an issue which exacerbated the situation – was criticized by Rahama.
So too was the failure to implement resolutions from a previous agreement in El Obeid and the resulting marginalization of civil society.
17 people were killed in the clashes last Sunday in el-Fula, South Kordofan following compensation and grazing disputes with petroleum companies operating in the area.
Related: Sudan: 17 dead in Misseriya clan fighting (7 January 2013)