Civil society leader urges respect for peace deal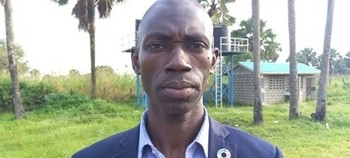 A civil society leader has urged both the military and political leaders in South Sudan's Yei River State to respect and fully implement the revitalized peace deal.
In an interview with Radio Tamazuj on Thursday, Edmund Yakani said implementing the peace accord will end citizens' suffering and create a conducive environment for the displaced to return home.
"It's the responsibility of the government and the opposition leaders to change their attitudes towards peace making," said Yakani.
The outspoken South Sudanese activist cautioned leaders and other actors not to misinform the public about the signed peace agreement.
"I call on the citizens of Yei to read the agreement in a correct manner and we are available to carry out dissemination of this document. For those of us who are disseminating this agreement please give the message correctly, don't add or subtract. My appeal is that Yei [River State] must walk out of violence. If you want to development, implement and embrace peace and stability" he stressed.
Implementation of the revitalized peace agreement, Yakani stressed, has in the last few months been progressing at a slow pace.
"This time, the implementation of the peace agreement is progressing well, the opposition leaders are meeting freely and we are also seeing improvement in the area of free civilian movement, humanitarian organizations are also moving to other areas for humanitarian assistance so this is a good gesture towards the implementation of the peace agreement".
He further said lack of information on the ground and unavailability of funds to implement the peace deal were challenges being faced.
"Among other challenges derailing the implementation of the peace agreement included lack of information to the lower ground soldiers on both sides. Another thing is also lack of funds," he said.
The civil society activist, however, said other partners had started injecting funds for the implementation of the revitalized peace deal.
In September, South Sudan's President Salva Kiir signed a peace agreement with various opposition factions to end a civil war that has killed at least 382,900 people and displaced millions since December 2013.
South Sudan plunged into warfare two years after independence from Sudan in 2011 when a political dispute between President Salva Kiir and then vice-president Riek Machar erupted into armed confrontation.
A previous peace agreement signed in August 2015 fell apart a year later after clashes broke out between government forces and opposition fighters.