Civil society groups launch campaign against gender-based violence in Maridi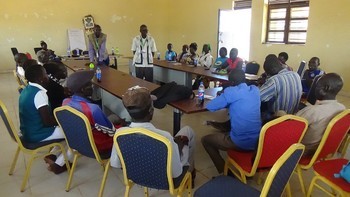 A group of civil society organizations in South Sudan's Maridi State have launched a campaign against gender-based violence.
Speaking to Radio Tamazuj on Tuesday, the head of the civil society alliance in Maridi, Chima Jackson said rape cases have been on the increase involving young girls under the age of 18.
He said the main reason behind the increase is the lack of a civil court to try and convict rape suspects.
"Most of the rape cases in the area are usually taken to the traditional court in which the accused person pays 600 South Sudanese Pounds and he will be released. That is why the cases have increased in Maridi town," Chima said.
He explained that they will enlighten traditional leaders and victims' families on the importance of seeking justice through a civil court that will punish the offenders.
Chima accused some organized forces of being perpetrators of rape saying when they are reported, their administration transfers the suspect to another location without punishment.