Civil society demand seat at IGAD meeting, call on principals to attend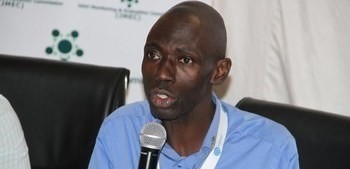 Photo: CEPO Executive Director Edmund Yakani
A South Sudanese civil society organization, Community Empowerment for Progress Organisation (CEPO) is urging the peace brokers to extend an invitation to civil society and national media houses to the meeting scheduled for next week.
Earlier in the week, the Intergovernmental Authority on Development (IGAD) Council of Ministers invited three delegates from all parties to the revitalized peace agreement for a consultation meeting in Addis Ababa, Ethiopia on 21st August to discuss the lack of progress in the implementation process.
At a press conference in Juba on Thursday, CEPO Executive Director Edmund Yakani said the civil society is a stakeholder in the peace agreement and should be part of the meeting. He stressed that the peace agreement is not only for the political parties but to the nation as a whole.
"We are calling upon IGAD, that still there is time, today is 15th can they extend invitation to the civil society as a stakeholder and the national media houses so that they do live and direct coverage of the meeting, rather the citizens of South Sudan getting the report from a second source," he said.
Yakani said the three delegates should include the leader and two others. He called on the principal party leaders President Salva Kiir and opposition leader Riek Machar to attend the meeting in the spirit of commitment to implement the peace deal.
"The history of peace mediation in South Sudan is that without the meeting of the principals, a breakthrough is a problem. Without seeing the top leaders of the parties meeting face to face normally there is no breakthrough," he noted.
Yakani further said, "Our appeal is that as citizens of this country as people who are suffering from the violence, your presence, your attendance to the meeting is a great hope that we will have a breakthrough with your presence rather than in the absence where sometimes we drag our feet to get consensus."
In May, South Sudan's rival leaders extended the formation of the unity government to November to implement key provisions such as creating a unified army and determining the number of states and their boundaries.