Citizens hope Pontiff's visit will bring peace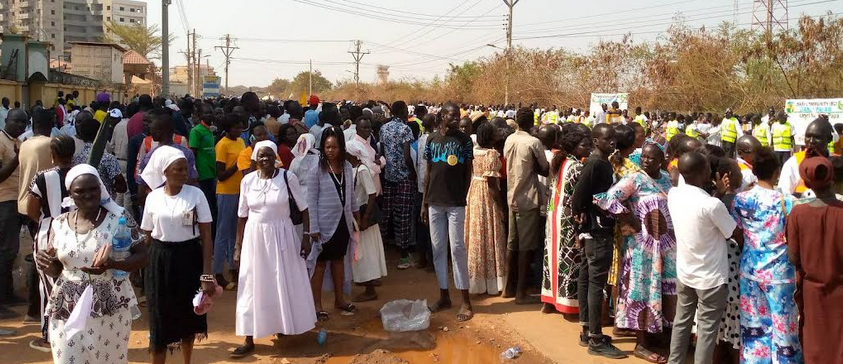 A cross-section of the crowd that welcomed Pope Francis in Juba City on Friday. (Photo: Radio Tamazuj)
South Sudanese hope that Pope Francis' visit will encourage the political leaders to embrace peace and restore stability in the restive country.
As thousands of citizens stood under the scorching sun at the Juba International Airport and along the roads of Juba City ululating and singing, Amira Albino, 38, expressed happiness upon seeing the pope for the first time.
"I am very happy with the arrival of Pope Francis to Juba and this is the first time for me to see him," she said. "What we all need as South Sudanese is peace in our country."
The airport road was lined with thousands of Christians and traditional dancers waving at the 86-year-old pontiff, Archbishop of Canterbury, Justin Welby, and the Moderator of the Church of Scotland, the Rt. Rev. Iain Greenshields.
Albino urged political leaders to embrace peace and unity.
"We want our leaders to take the coming of pope seriously and to bring lasting peace in our country." She added.
Lema Alex, 40, who trekked from Rokon Payam in Central Equatoria State, said the visit is as a blessing to South Sudan.
"Our South Sudanese have failed to live in peace and harmony and he (pope) has come to bring the peace we are yarning for," Lema said. "We need to change our hearts and embrace one another as brothers and sisters in a lovely country."
Meanwhile, Sarah Abdullah, who said she left her home at 6 am to welcome the pope, however, said the visit of the Holy Father will not bring total peace because it can only come from the hearts of the citizens.
"The coming of the pope is a blessing to us but real peace will come from within our hearts," she said. "If we are ready to embrace peace then peace will prevail and if we do not have peace within our hearts the peace will not come."
On her part, Victoria Yar, 58, said she believes the evil which has been making people kill each other will end.
"With the coming of the pope, I believe what was killing us will disappear," she hoped.
A 40-year-old Congolese national who only identified himself as Benjamin said he came by road all away from the Democratic Republic of Congo (DRC) to receive and see the pope in South Sudan.
"We came here to receive the pope and we are very glad to be here. This is my first time to come to Juba," a beaming Benjamin said. "
President Salva Kiir Mayardit received Pope Francis upon his arrival at Juba International Airport this afternoon at 2:45 pm local time.
The three religious leaders will spend three days in South Sudan on an ecumenical pilgrimage for peace.