Cirilo's group says repulsed government attack in Amadi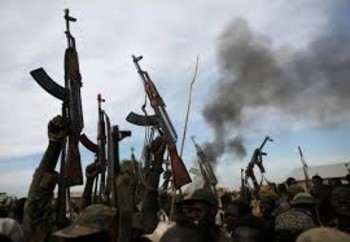 File photo: Rebel fighters hold up their rifles as they walk in front of a bushfire in a rebel-controlled territory in Upper Nile State, February 13, 2014. (REUTERS)
South Sudan's rebel group of the National Salvation Front (NAS) led by General Thomas Cirilo Swaka said it repulsed government forces that attempted to attack their positions in Mvolo County in Amadi State on Monday.
The group's official military spokesman, Yien Mathew Chuol, told Radio Tamazuj on Tuesday that their forces successfully repulsed and drove away government fighters from their areas in Mvolo County on Monday.
Yien claimed that they killed several government soldiers and captured guns and ammunition during clashes.
He pointed out that their opposition group had no plans to launch attacks on government forces in the state. He urged the African Union and the international community to bring peace to South Sudan.