Cirillo says he did not sign peace deal in Khartoum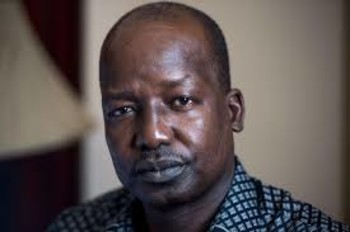 Photo: NAS leader Thomas Cirillo
The National Salvation Front (NAS), a member of the opposition alliance, has denied that it was party to the peace deal signed in Khartoum to form a power-sharing government.
The groups' leader General Thomas Cirillo Swaka told Radio Tamazuj on Monday evening that the signed peace deal favours the government side in the political settlement.
Cirillo further said NAS has not authorized any individual or any group of individuals to sign the agreement on its behalf in Khartoum.
"We refused to sign the agreement in Khartoum. I want to confirm that we did not sign the agreement. There was a conspiracy when they realized that we rejected the agreement, they brought unauthorized individuals to sign on our behalf," he said.
"Two to three people from our NAS were bought with money and signed on our behalf, so it was conspiracy done in Khartoum," he added.
General Cirillo pointed out that his side objected to the fact that the current system of governance doesn't empower the people of South Sudan.
"We demand for federalism because our people in their respective states can organize their livelihood and govern themselves, so this is what we want. But Juba doesn't want it because they still want to sit on the heads of the South Sudanese people, "he said.
"Also, we don't want a bloated government because it will cost a lot of money. Our people need food and medicines. The issue of 32 states is also problematic because it causes problems between tribes," he added.
However, Cirillo reiterated his movement's commitment to continue engaging in negotiations for a just peace in South Sudan.
The opposition leader maintained that his group is still part of the opposition alliance, a consortium of nine opposition entities.
Separately, General Cirillo confirmed that he dismissed top officials in his movement for allegedly conspiring against the group.
"They were dismissed because they conspired against the movement and went to sign on behalf of NAS. Some of them were given money while others were promised with top positions in the government," he said.
Cirillo on Sunday dismissed Maj. Gen. Julius Tabuley, Dr. Gasim Barnaba Kisanga, Gen. Khalid Butrous, Maj. Gen. Ali Kur, Brig. Nathaniel Chol Gai, and Brig. Gen. Michael Aywen.