Cirillo refuses to sign governance deal without federalism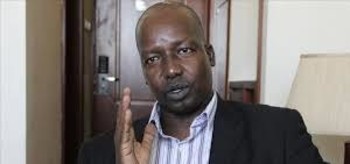 Photo: Thomas Cirillo
Thomas Cirillo Swaka, the leader of the National Salvation Front (NAS), said Thursday he will not sign a peace deal that does not include federal system of governance.
Federalism is a system of government in which state or regional governments hold their own exclusive powers, which the national government cannot interfere with.
"Unfortunately, the current governance proposal prioritizes power sharing over devolution of powers, strengthens and further entrenches the current rotten system in Juba rather than transforming it and defers the question of federalism to a permanent constitution making process that the parties cannot guarantee when this will eventually happen," Cirillo wrote in a statement seen by Radio Tamazuj.
The opposition official, who is also a member of the South Sudan Opposition Alliance (SSOA), said he believes that the initialed governance agreement does not meet the aspiration of the South Sudanese people and that it falls short of the minimum requirement for a viable compromise.
"Therefore, NAS will not sign and will not give its consent to SSOA to sign on its behalf the initialed governance agreement even with reservations, "partly reads the statement.
"Consequently, since decision within SSOA is taken by unanimity, it is clear that SSOA cannot sign the initialed governance agreement with or without reservations. I respect the right of each member of SSOA to sign as individual parties. NAS only hopes that members opting to sign will also communicate their position to the rest of the members to avoid surprises," Cirillo said.