ADDIS ABABA -
24 Jul 2018
Cirillo: Opposition seeks to weaken Kiir's power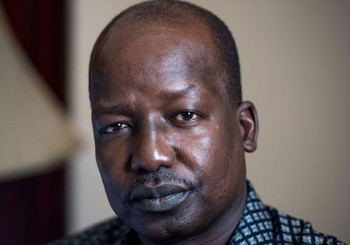 Exiled South Sudanese rebel general Thomas Cirillo in Ethiopia's capital Addis Ababa, April 17, 2017. REUTERS
Thomas Cirillo Swaka, leader of the National Salvation Front, said the opposition seeks to reduce the power of President Salva Kiir and strengthen institutions in the transitional period.
The disaffected army general quit his position in the military last year and formed a rebel group to fight against the government.
In an interview with Radio Tamazuj from Addis Ababa on Monday, General Cirillo said the opposition rejected many power sharing proposals presented by the mediation team at ongoing peace talks for failing to address the root cause of the conflict.
He further said the current system of governance in South Sudan is awarding the office of the president wide powers.
The opposition leader underscored that excessive power in President Kiir's hand is undermining the workings of the democracy and accountability in the world's youngest nation.
"We don't want to dwell on power sharing. We want to tackle the system of governance, so we are saying this is our top priority," Cirillo said.
He pointed out that a fundamental weakness of the current system of government is the way in which it allocates powers and resources to the states and counties.
The opposition official said it is crucial that South Sudanese parties agree on a council of presidency with equal powers during the transitional period.
"We don't want powers to be in one man's hand so that he does whatever he wants to do in the country. If Salva Kiir will continue as the president, he should be part of the presidency where there should be a consensus based decision-making process during the transitional period," he explained.
Cirillo said that the opposition will not religuish its demand to get power at the local government level during the transitional period.
He also said that the people of South Sudan demand for federal governance, a system in which sovereign powers are divided between federal and state governments."
"The national government has too much power and the states are being weakened, so we are confident that the federal system will empower our people at the local government level. We reject any proposal saying the federal system will be introduced after the transitional period," he said.
The opposition leader voiced support for a peace agreement that is widely inclusive of the views of the South Sudanese people and that engages civil society, faith-based groups and women.
Cirillo demanded that South Sudan should revert to the defunct 10 states as provided for in the 2015 peace agreement. "If the people of South Sudan demand more states, there will a referendum so that they can decide on the number of states. The current 32 states have caused conflicts in South Sudan," Cirillo said.
He further said the opposition alliance will sign a peace deal in Khartoum on Thursday if their concerns are addressed by the mediation team.