Church leaders in Juba 'called for urgent meeting' in Addis Ababa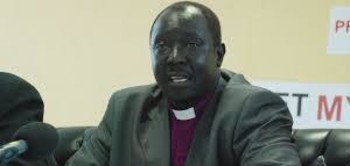 File photo: Bishop Paul Yugusuk
Senior church leaders in the South Sudanese capital Juba have been called urgently for a meeting with the East African regional bloc IGAD in Addis Ababa, an episcopal cleric said.
Paul Yugusuk, Archbishop of the Episcopal Church in Central Equatoria region, told Radio Tamazuj this afternoon that church leaders in Juba have been invited by IGAD to attend an urgent special meeting in Addis Ababa.
"We don't know the agenda of the meeting, but the invitation says heads of churches are invited to attend an urgent meeting in Addis Ababa. We are three church leaders who are going to Addis Ababa. Myself Paul Yugusuk and Isaiah Dau of Pentecostal as well as Arkangelo Wani Lemo of African Inland Church. Presbyterian Church and Catholic declined, so they asked us to represent them," Yugusuk said.
He pointed out that they will travel to Addis Ababa tomorrow morning." We said that it will be good if we include women representing the three regions. Now we have three women who will go to Addis Ababa with us," Yugusuk said.
The religious leader called on the warring parties at the ongoing peace talks in Addis Ababa to negotiate seriously to bring about peace in South Sudan.
The episcopal cleric noted that they will also meet with the warring parties at the peace talks to encourage them to accept peace.
South Sudan's parties at the peace talks have been meeting separately since morning without the mediation team after the talks hit a deadlock over governance.
Peace negotiation between South Sudan government and opposition groups in Addis Ababa entered ninth day.