Cholera claims eight lives in Kapoeta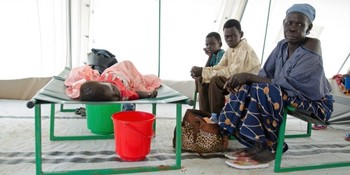 File photo: MSF/Nick Owen
Health officials in Kapoeta Civil Hospital in South Sudan's Kapoeta reported that at least eight people have died of cholera recently.
The hospital's medical director Mustapha Lokuru told Radio Tamazuj on Thursday that the death cases were reported in villages and not in the hospital. However, he said they admitted 78 cases, 71 of which were discharged while seven remain under treatment at the health facility.
"We have no death cases reported at the hospital, but according to the team we sent for awareness and health education in the rural areas where cholera cases we reported first, there are few people who died from cholera," said Lokuru.
The health official appealed for medical supplies to control the cholera outbreak in the area, saying the hospital was running out of drugs.