Changson: Machar's group quits opposition coalition over leadership row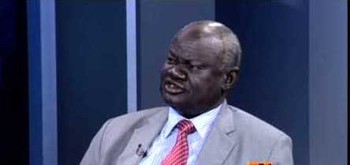 File photo: Gabriel Changson Lew Chang
The main opposition group led by South Sudan's former first vice president turned rebel leader Riek Machar pulled out of the opposition coalition after a row over the alliance's leadership, a top opposition leader said.
Last week, eight opposition groups launched a new alliance and left out the opposition groups led by Riek Machar and Pagan Amum.
Speaking to Radio Tamazuj on Friday, Federal Democratic Party leader Gabriel Changson Chang said the SPLM-IO faction led by Riek Machar decided to withdraw from the coalition after a row over which opposition party should lead the new body.
"Dr. Riek said his movement is the main group, so he said they should lead the new alliance. But we said the argument is unjustifiable. You see most of the opposition groups broke away from SPLM-IO because of many reasons," he said.
"For example the opposition National Democratic Alliance (NDA) between Mohamed Osman al-Mirghani and John Garang in 1980s, the chairman of the coalition was al-Mirghani but he didn't have forces compared to Garang," he added.
The opposition leader pointed out that they haven't yet selected a leader for their new coalition. "Since December 2017, I have been chairing the meetings of the opposition coalition. But according the new Charter, we said the leadership will be rotational," he said.
"The coalition has three structures. We have a leadership council which comprises of leaders of the opposition groups. When we return to Addis Ababa, we will operationalize the coalition and establish a joint military command and secretariat," he said.
For his part, Lam Akol who leads a rebel group calling itself National Democratic Movement said the new coalition will work together politically and militarily.
"The Charter of the new alliance will be made public soon. We have not yet selected the leader of the new coalition," he said.
Akol denied reports that the exclusion of the main opposition group led by Riek Machar will negatively affect the new alliance.
SPLM-IO officials could not immediately be reached for comment.
The opposition coalition said they agreed to formalize and operationalize an alliance in order accelerate efforts to restore just and durable peace, democracy and to preserve human rights and the fundamental democratic rights of the people of South Sudan.
The alliance further said it wants to meet the challenge of restoring the integrity and unity of the people and ensure a radical political, economic and security transformation.
Signatories of the opposition alliance included Gabriel Changson, leader of the Federal Democratic Party, Thomas Cirillo, leader of National Salvation Front, Lam Akol, leader of South Sudan's National Democratic Movement, Hakim Dario Moi, chairman of PDM, Bapiny Monytuil, chairman of SSLM/A, Bangasi Joseph Bakosoro, chairman of National Movement for Change, Costello Garang Ring, leader of South Sudan Patriotic Movement, and Peter Gatdet Yak, chairman of South Sudan United Movement.