CEPO welcomes return of Garang's widow to Juba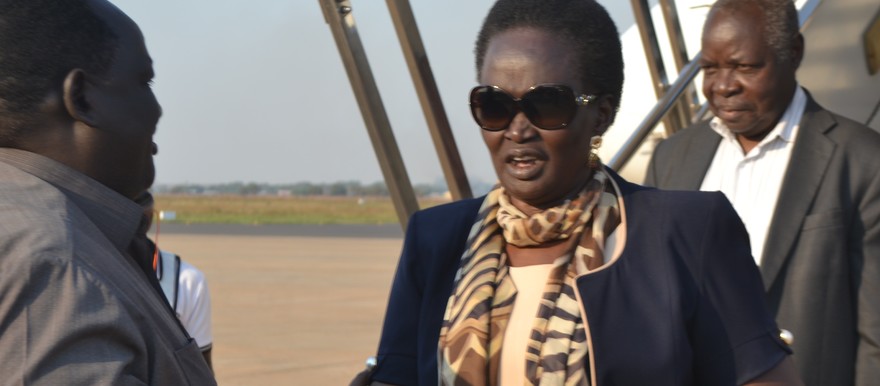 A South Sudanese civil society activist has welcomed Saturday's return of Rebecca Garang to the capital, Juba, saying her presence clearly demonstrated commitment to making peace and ensuring peace prevails in the young nation.
"This is a clear demonstration of commitment for making peace and [ensuring] stability prevails in South Sudan," said Edmund Yakani, the executive director of Community Empowerment for Progress Organisation (CEPO).
He said it was the moment for the country's political elites to demonstrate political maturity to resolve their political differences, without claiming lives and properties of innocent civilians.
Rebecca, widow of John Garang de Mabior, the founder of the SPLM/A, who died in a plane crash in 2005 returned on Saturday.
Rebecca, a former presidential adviser, has been loosely associated with the SPLM "Former Detainees," a high-level group of SPLM politicians who were arrested by government in December 2013, but later released.
Members of the Rebecca-led group include, Kosti Manibe, Atif Kiir, Majak d'Agoot and Gier Chuang Aluong, among others.
According to Yakani, the return of Rebecca and other members of the former political detainees provided the final chance for political elites to prove to citizens that they stand for peace and stability.
"Failure to implement this signed Revitalized Agreement on the Resolution of Conflict in South Sudan genuinely, will offer great opportunity for displaying the political elites in conflict as before the citizens as politicians that lack vision for having South Sudan independent from the rest of Sudan," he said.
The activist emphasized that the apologies expressed by the various political elites after the signing of the peace agreement in September, 2018 will come to reality only if the peace accord is implemented per spirit and letter.
"Political apologies without change of political attitudes it is meaningless and it hold no water," said Yakani.
"Various political elites need to translate their made apologies into action by implementing the signed peace agreement and change of political attitudes and languages," he stressed.
Meanwhile, Yakani urged the country's political elites to take primary responsibility of making peace and stability prevail in the country.
"The pride of struggling for an independent South Sudan is not to continue facing violence, but it was to have a peaceful and stable state of South Sudan," he further said.