CEPO welcomes extension of pre-transitional period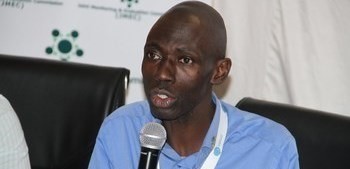 Photo: CEPO Executive Director Edmund Yakani
A South Sudanese civil society organization has welcomed the extension of the pre-transitional period by 100 days by the principal parties to the revitalized peace agreement.
At a tripartite meeting in Entebbe, Uganda, President Salva Kiir and opposition leader Riek Machar on Thursday agreed to the extension to allow time for the implementation of key pending issues, days to a November 12 deadline.
Machar had earlier called for a 6-month delay to resolve outstanding issues including drawing of internal boundaries and creating a national army.
Edmund Yakani, Executive Director of the Community Empowerment for Progress Organization CEPO said much needs to be done in the 100 days.
He called on the parties to commit to the implementation process and the government to avail of the much-needed funds for the implementation.
"Development of a clear plan for each action and increase of the adequate and timely release of funds this includes the availability of political will and commitment from the parties' principals. The face-to-face meeting should be conducted regularly at least monthly within the 3 extended months," CEPO said in a statement.

CEPO further called for equal treatment of forces in the cantonment sites and barracks, an audit of the National Pre-Transitional Committee before the disbursement of any funds saying it will track all activities agreed upon.