CEPO to Govt: Reveal names of released detainees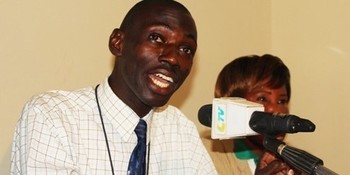 File photo: South Sudanese activist Edmund Yakani speaks in Juba (Radio Tamazuj)
A South Sudanese civil society group is calling on the government to announce the names of 21 political detainees released last Saturday.
According to a statement by the Community Empowerment for Progress Organization CEPO, a broadcast by the South Sudan Broadcasting Corporation television on Saturday 18th August 2018, the government of South Sudan released 21 political detainees from the national security services. However the identities were not disclosed.
"We wish that the released 21 political detainees' names are made public by the releasing authorities as a sign of transparency in executing the presidential order for the release of the political detainees," Edmund Yakani, CEPO executive director said.
He also welcomed the move saying "It is remarkable act and clear demonstration of spirit for making peace happen in South Sudan."
Yakani urged other parties to replicate what the government has done in respect of the agreement signed.
"We hope that other actors that are holding political detainees will do the same. This is an act called upon by the signed Permanent Ceasefire Agreement recently in Khartoum dated 5th Aug. 2018 and Cessation of Hostilities Agreement dated 21st December, 2017 in Ethiopia-Addis Ababa," the statement read in part.
The activist also reiterated calls demanding the release of all those being detained without favor.
"We are urging the government to free all political detainees including the recent detained fellow citizens namely Peter Biar, Samuel Dong, James Gadet, Kerbion Wol and Aggrey Idri and others, Yakani said.
He stressed the importance of resolving political differences through lawful and non-violent manner.