CEPO launches peace building project in Yei River State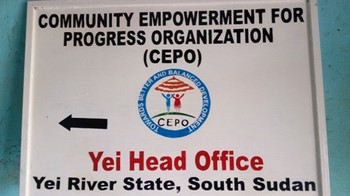 CEPO-YEI SIGN POST (Radio Tamazuj).jpg
A South Sudanese civil society group has launched a 6-months community peace-building project in South Sudan's conflict affected Yei River State.
In a statement to Radio Tamazuj, the Community Empowerment for Progress Organization CEPO said on Friday that the peace project is aimed at strengthening local capacities for effective peace building to promote peaceful communities in Yei and its surrounding areas.
CEPO added that the pilot project aims at conducting 16 community peace dialogues and meetings, radio talk shows and production of jingles on peace messages and civic education on the dissemination of the Khartoum signed peace protocols.
"This program is designed to target at least 3,000 or more people who are living in and around Yei. This project will benefit religious groups, youth, women, chiefs, elders and peace actors who are key players in achieving the objectives of building trust, confidence and create the space for peace building through based on a community approach," the statement read in part.
It further said "the project will focus on conflict mitigation, promoting social cohesion, reconciliation, peace building, trauma healing and counseling."
For his part, Yei River State deputy chairperson for peace and reconciliation commission Stephen Taban welcomed the initiative and urged CEPO to extend its activities to the rural counties of Yei River State once there is peace and stability in the region.
"As workers in the peace commission, we appeal to CEPO to reach up to Lainya, Tore, Kajo-Keji, Morobo and Lasu Counties to help in promoting peaceful co-existence at the community level," he appealed.
The six months project is being supported and funded by United States Agency for International Development (USAID).