Central Upper Nile governor blocked from entering Malakal PoC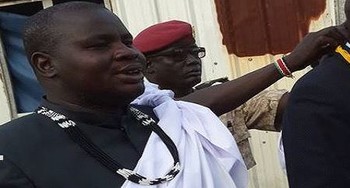 File photo: Governor Tor Monybuny
A group of youth living in the UN camp in Malakal town blocked the governor of Central Upper Nile state from visiting the compound to share prayers with Shilluk congregation on 28 January.
Governor Tor Monybuny said in a statement addressed to the UN mission in the country and seen by Radio Tamazuj that some youth stood at the gate protesting against his visit.
The government official said he decided to visit the UN camp at the invitation of Shilluk congregation at the camp. "Upon my arrival, I was received very well by the UNMISS Management, security and Northern Rwandan Battalion. We were led through to the Log Base gate. Unfortunately, there were some young people who stood at the gate protesting against my entering to the PoC," party reads the statement.
Monybuny said he has been working to create an enabling environment for peace-building in the state, while urging the UN mission to create more awareness drives about the importance of peace in the country.
UNMISS opened its gates to people fleeing when conflict erupted along ethnic lines in December 2013. A peace agreement was signed in August 2015, but many PoC residents have not been confident that it is safe to return to Malakal town amid regular ceasefire violations and mounting food insecurity across the country.