Central Equatoria to forcefully evict pastoralists, cattle from Kajo Keji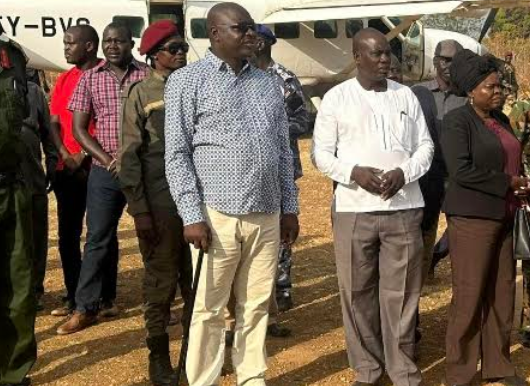 Central Equatoria State Governor Emmanuel Adil Anthony in Kajo Keji with his security team on 06 February 2023. [Photo: Radio Tamazuj]
Central Equatoria State Governor Emmanuel Adil Anthony on Monday said his government will use force to evict pastoralists and their cattle from Kajo Keji County following the killing of 21 people in Lire Payam last week by armed herders.
The governor who landed in Kajo Keji on Monday morning was addressing residents at the site of a mass grave where the victims of last week's killings were buried and said that together with state security chiefs, they would camp in the county until the pastoralists vacate.
"We have announced as the state government that we have come to Kojo Keji and if the cattle herders want to fight us, we are ready to fight them here in Kajokeji," he said. "And I want to tell them wherever they are that we are going to go from one cattle camp to the other till these cattle are out of Kajokeji."
Last Friday the Central Equatoria State council of ministers directed the state authorities to relocate temporarily to Kajo-Keji County until calm is restored.
The governor was accompanied by Moro Jenesio, the state minister of local government and law enforcement, Viana Kakuli, the minister of finance, Gerald Francis, the minister of peacebuilding, and Andruga Mabe, the information minister among others.
Addressing the bereaved families and the civil population after a brief security briefing, Governor Adil assured of his and his government's resolve to ensure that the pastoralists and their animals return to their areas of origin.
He said the time for talks has ended as the government has made so many efforts to bring peace between Jonglei and Central Equatoria states with the most recent being initiated by the Archbishop Paul Yugusuk of Central Equatoria Internal Province.
"Time for talks and discussions with them (herders) is up because I am tired of talking with them. When we are talking, we see more people dying. This time if it is fighting, we are ready to tell them to go," Governor Adil vowed. "The day the pope came, we were meeting with our President Salva Kiir Mayardit and he asked me to pass on his condolences. He is not happy. He directed us together with the security organs to drive the cattle out."
He said the killings in Kajo Keji saddened many people and that Vice President James Wani Igga is expected to travel to Kajokeji on Tuesday.