Central Equatoria governor orders removal of illegal roadblocks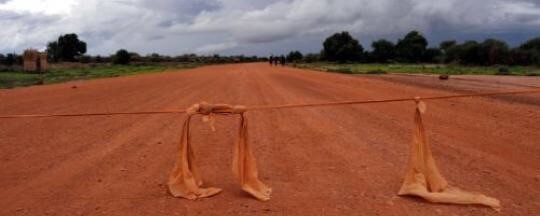 Central Equatoria State Governor Emmanuel Adil Anthony has instructed the relevant authorities to remove illegal checkpoints along the roads from Juba into the other counties of the state, a government official said.
Paulino Lukudu, the state minister of information and communication, told Radio Tamazuj on Wednesday that the new order aims at promoting trade in all the six counties of the state.
"This order was issued by the governor that all the illegal checkpoints and roadblocks in all the counties of Central Equatoria be immediately removed. The governor has directed the minister of local government and law enforcement agencies, the state national security service, police commissioner, county commissioners and all the organized forces to ensure that the order is implemented," Lukudu said.
"We don't want to see illegal checkpoints in each county because we have discovered that there are over six checkpoints between Yei and Morobo alone. So, any person breaking this order will be dealt with in accordance with the law because we don't want business people and consumers to suffer," he added.
Reacting to the news, Edward Luba, the chairperson of the Yei River County Chamber of Commerce welcomed the order and appealed for its enforcement immediately.
"I thank the governor of Central Equatoria State Emmanuel Adil because there a lot of checkpoints and many people collecting taxes illegally at those checkpoints," Edward Luba said. "I believe with this move, the prices of goods will reduce. So, we call upon the government to ensure that this order is monitored by the law enforcement agencies and county commissioners."
Traders in Central Equatoria State have repeatedly complained about several illegal checkpoints affecting business operations in the state. At some checkpoints, security personnel ask business people to pay money in order to pass the road.
In April 2014, President Salva Kiir instructed the Ministers of Interior, Defense and National Security to remove illegal checkpoints along the roads from Juba into the other states of South Sudan.