Ceasefire monitors worried about slow cantonment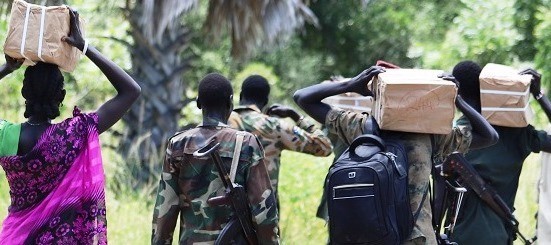 SPLA-IO soldiers carry boxes with forms delivered by JMCC members to register forces in Ayod County on September 24, 2019. (Photo: Radio Tamazuj)
South Sudan's ceasefire monitoring body (CTSAMVM) has expressed concern over the slow progress in the cantonment process.
Under the terms of the revitalised peace deal, the rival parties are to create a unified army and settle disputes over the number and boundaries of states before a transitional government could be formed on 12 November.
Addressing the CTSAMVM board meeting in Juba on Thursday, the CTSAMVM chairperson, Abiche Ageno said the cantonment process remains slow and that the parties to the peace deal have already missed IGAD's September 30 deadline to have half of the 83,000 unified forces trained and deployed.
Ageno further said government troops are currently occupying Lora Primary School, Ronyi Primary School, Jambu Primary School and Wuktebi Primary Schools in Yei River State.
"Only two buildings have been vacated – by the SSPDF in Nimule and in Moli Tokuro, both reported by our MVT in Torit. This brings the total number of occupied civilian buildings to 39," he noted.
Ageno added that 35 of these civilian buildings, mainly schools and health centres, are occupied by government forces and four are under the occupation of the armed opposition forces (SPLA-IO).
"The failure to vacate these buildings demonstrates a lack of commitment to the peace process," he stressed.
Separately, the ceasefire monitoring body pointed out that it is investigating a number of incidents involving non-signatories to the peace agreement, including abductions of civilians on the road between Kerika and Mambe.
"Another area of concern to CTSAMVM is the ongoing tensions in Maiwut and Turow which we are investigating," Ageno said.
"As is our mandate, CTSAMVM continues to monitor the overall security situation and reports of tension in order to encourage early mediation and prevent escalation," he added.
The official further said the 15th CTSAMVM Technical Committee (CTC) discussed and endorsed five violations, the first involving fighting between National Salvation Front (NAS) led by Thomas Cirillo and the armed opposition faction (SPLA IO) in Wiro Panama in February 2019, which the ceasefire monitors, attributed to NAS.
A separate incident, he said, involved the killing of a civilian in Paya subsequent to fighting between South Sudan army forces (SSPDF) and the NAS on 31 July 2019, which was attributable to the SSPDF.
"These incidents amount to five violations under the Revitalized Peace Agreement and the incorporated Agreement on Cessation of Hostilities," Ageno noted.
The CTSAMVM was established after the signing of the 2015 peace agreement.